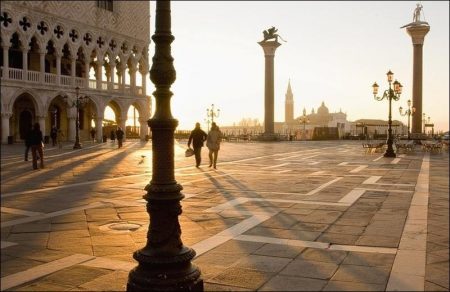 Venice is built on 118 islands, criss-crossed by 160 canals and linked by 400 foot-bridges. There are no roads, only canals; no traffic, only water buses and water taxis and the gondolas. A labyrinth of alleys and stairs and little bridges link the main waterways. Have coffee at Caffe Quadri, or Caffe Avena, or Caffe Florian (the oldest cafe in Venice) in the grandest square in Europe – Piazza San Marco. And you cannot go to Venice without calling in at Harry's Bar, on the Grand Canal (entrance on Calle Vallaresso), made famous by Ernest Hemingway.
See the Palazzo Ducale, where the Doges lived in princely style; the Rialto bridge; the great Cathedral of St Mark (with Titian's masterpiece, Last Judgement, in the Vault of Paradise); the Accademia art gallery; the Ca' d'Oro the School of San Giorgio degli Schiavoni with famous Carpaccios and the School of San Rocco with magnificent Tintoretto paintings. If you climb the 15th century Clock Tower you have a superb view of the whole of Venice. When shopping in Venice things to look for include fine handmade lace, jewelry, leather goods, and above all, glass.
You could go to the island of Murano and see the glass being made, and Torcello, for its cathedral with beautiful mosaics. Luxury hotels in Venice include the Danieli Royal Excelsior, right next door to the Doge's Palace, the Cipriani on Giudecca island and the Bauer Grünwald. Even if you do not stay there, it is a delightful place to dine and dance on the roof garden. Ernest Hemingway preferred the smaller, quieter, Gritti Palace. Dine at La Taverna Fenice, La Caravella, Harry's Bar and Florians. For seafood try Al Graspo de Uva and Peoceto Risorto. Places to visit from Venice include: the Lido, just across the lagoon. It has a marvelous beach, with fine hotels like the Excelsior Palace.