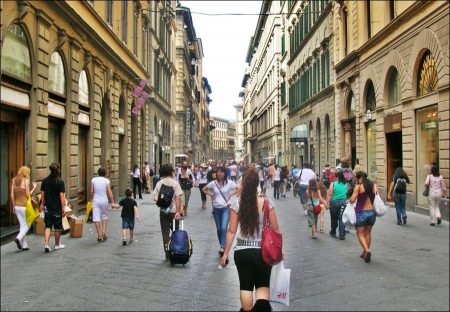 180 miles north of Rome, Florence is one of the great cities of the world. Everywhere you turn in this incomparable town you will see exquisite masterpieces of architecture and art which recall the days when Florence was the undistuped leader of the Renaissance world, under the rule of the powerful Medici family.
Magnificent palaces like the Galleria degli Uffizi, built to house the State Judiciary in 1565 and now one of the largest and most important mseums in the world; Palazzo Pitti, in the Boboli Gardens, which has a modern art gallery and a silver museum as well as Raphael works, Titian and Giorgione. Donatello's famous statue of St George is in the Bargello Museum (a prison of the 16th century).
The second pair of bronze doors which Ghiberti designed for the Baptistry of the Cathedral of Santa Maria dei Fiori, were described by Michelangelo as 'the gates of paradise' and the cathedral itself, with its celebrated bell tower is a glowing masterpiece of colored marble. Every square and every ancient building is a work of art – the 13th century church of Santa Croce, where Machiavelli and Michelangelo are buried; the Dominican monastery of San Marco, with its beautiful Fra Angelico frescoes; the Accademia di Belle Arti, where you can see Michelangelo's superb statue, David. A copy is in the Piazza della Signoria, which is a busy square in the city and one of the most beautiful open air galleries in Europe.
Florence is also one of the top gourmet cities in Europe. Try bistecca alla Fiorentina, the Fiorentine way with a big juicy steak, or tortino di carciofi (eggs with artichokes), or triglie o baccala alla Livornesei which is a fish and tomato sauce concontion.
Places to enjoy these masterpieces – the roof gardens of the Baglione Palace hotel, where you can dine and dance in the evenings. The Open Gate (Viale Michelangelo); Ristorante Ponte Vecchio, near the famous 14th century bridge; Sabatani (via Panzani); Villa San Domenico (via della Piazzola); Otello (via Orti Oricellari); and if you want to eat American now and then, Doney's (via de Tornabuoni) does a good line in snacks as well as specials, like scampi alla Medici. Harry's Bar is a favorite meeting place and Jolly Club is a lively discotheque.