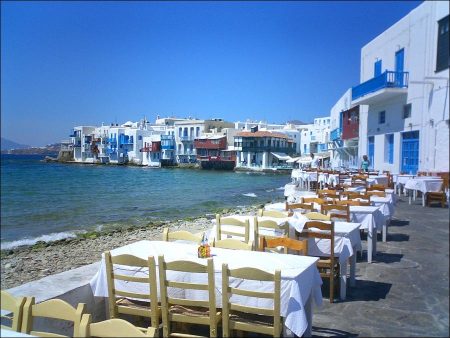 Greece, of course, has the most instantly recognizable vernacular architecture: not only the white-cube style of the Cyclades, so beloved of tourist posters, but the jaunty red pantiles of northern Greece and the neoclassical pediments of the Dodecanese.
Greek handcraft articles are a good buy in any part of Greece and include woven fabrics and small fabric bags from Arahova (near Dephi); woodcarved articles from Metsovon and Vitna (near Tripoli); island knit-wear; textiles from Mykonos; handmade silver jewelry from Ipiros; gold and silver ornaments from Rhodes; ceramics and alabaster from Crete; Sykoros pottery; handwoven shirts and dresses; sandals; sponges; honey; ouzo; brandy; brass and copper; worry beads; embroidery; flokati (long pile rugs in vivid colors).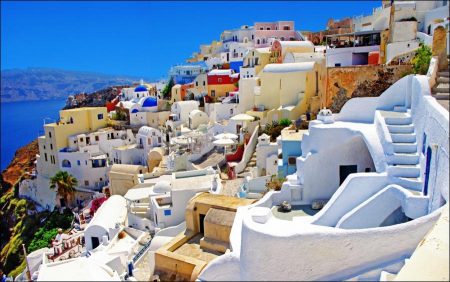 Despite their touristy ambience, Santorini and Mykonos have the two supreme white-cube towns, and nobody can deny that, of the two, Santorini's has the more dramatic situation, clinging a thousand feet up to the precipitous lip of a sunken volcano. It makes a perfect cruise-ship stop, and the view is a must for first-time visitors; but for me, that is where the attraction ends. Santorini's town, so pristine and peaceful from a distance, is unexpectedly tacky at close quarters.
The treadmill of backpackers and sightseers arriving briefly to register the view before squeezing onto the narrow black sand beach gives it a feeling more of a transit camp than of a lazy Greek island. Mykonos, too, suffers from an excess of visitors, but it manages to receive them with a sense of style and chic that has been lost on most other major tourist islands. On my trips to Greece, I always enjoy spending a few civilized days on Mykonos, but "Been there, done that" is my normal response to Santorini.