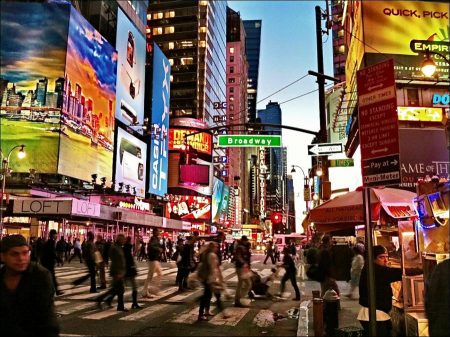 Broadway, the longest and most fantastic street in the world, starts its 16-mile journey from the tip of Manhattan as a shipping lane, moves a few blocks north to the Wall Street financial center, passes by the civic buildings of the city, and takes a diagonal course from Union Square through the needle-trades area between 34th and 39th Streets.
Between 42d and 53d Streets, Broadway is the Great White Way —renowned as an amusement and theatrical center. From 53rd Street to Columbus Circle it cuts through Automobile Row, center of the auto retail trade. It changes its diagonal course at 79th Street to parallel the island's high escarpment facing the Hudson River.
Here it is lined with hotels, apartment houses, cafeterias, beauty salons, movie houses, and churches. At 114th Street it strikes a new note in the buildings of Columbia University, and another at 155th Street in a group of museums. From this point on it is a nondescript thoroughfare, ending as a semisuburban road as it approaches the city's limits.