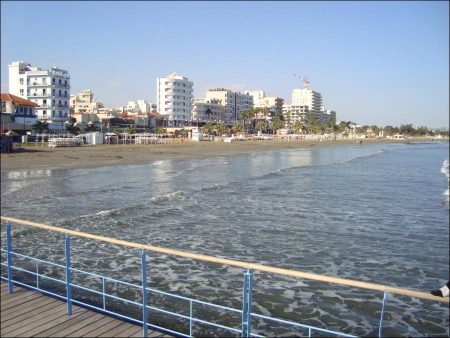 Larnaca is a city on the southern coast of Cyprus and the capital of the eponymous district. It is the third-largest city in the country, after Nicosia and Limassol, with an urban population of 84,591 (2011).
Larnaca is known for its palm-tree seafront, the Church of Saint Lazarus, the Hala Sultan Tekke, the Kamares Aqueduct and its medieval fort. It is built on the ruins of ancient Citium, which was the birthplace of Stoic philosopher Zeno.
Larnaca is home to the country's primary airport, Larnaca International Airport. It also has a (both passenger and cargo) seaport and a marina.
Larnaca Culture
Arts
Larnaca has a theatre and an art gallery, which are operated by the municipality. The Cornaro Institute is a cultural centre in Old Town and which stages contemporary art exhibitions and other cultural events.
Music
Local institutions include the Municipal Wind Orchestra.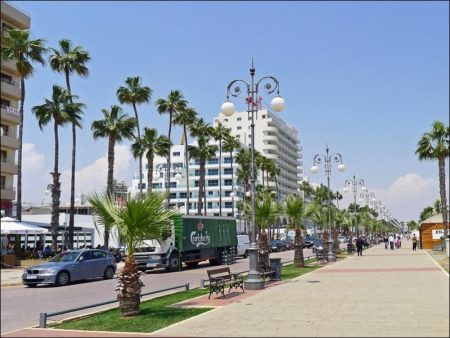 Sports
Local teams include (football:) AEK Larnaca FC and ALKI Larnaca FC. Due to the Turkish occupation of Famagusta, the two teams of Famagusta, Anorthosis and Nea Salamina, are located here.
Local sports arenas include GSZ Stadium, "Antonis Papadopoulos", and "Ammochostos".
International competitions held in the city, include the Shooting Shotgun European Championships in 2012, the FIVB Beach Volleyball SWATCH Youth World Championship in 2012, the European Under-19 Football Championship final in 1998 and the European Under-17 Football Championship final in 1992.
Larnaca attracts windsurfers from around the world especially in autumn. Mackenzie Beach hosts windsurfing centre together with an extreme sports centre.
Festivals
Much of the activity is centered around the city promenade during the major festivals. The most important of these is Kataklysmos or the Festival of the Flood, celebrated in early summer with a series of cultural events. The festival used to last for about a week, but, in recent years, with the increased commercialism of peripheral stalls, rides and temporary lokmades restaurants, the festival has been extended to about three weeks, during which the seafront is closed to traffic in the evenings. Lokmades (or loukoumades) is a sweet delicacy.
Museums
Museums found in Larnaca include the Larnaca District Archaeological Museum, Pierides Museum and Kyriazis Medical Museum.
Cuisine
The beaches of Larnaca are lined with nearly identical seafood restaurants catering to tourists. Although there are many continental and international restaurants in Larnaca, visitors do not miss out on indulging in the local food. Many of the staple dishes involve beans, such as fasolaki (French beans cooked in red wine with lamb), and louvi me lahana (black-eyed beans with chard). Some of the standard appetizers are potato salad, kohlrabi salad, and hot grilled black olives.
The next course may include Cyprus village sausage and sheftalia, dolmades and keftedes, kolokassi in tomato sauce, and several aubergine-based dishes. Baked or grilled lamb (souvla) usually appears somewhere in the course of dining, as does some kind of fish.