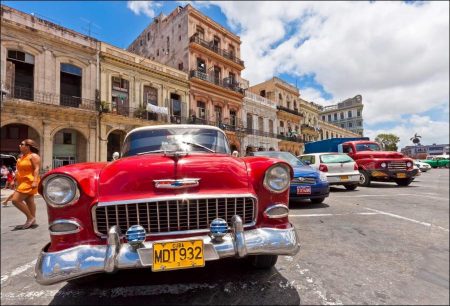 Taking a trip to the Cuban capital? Discover the essential places to eat, drink and let your Latin spirit run wild.
Sexual, sensual and addictive, Havana seduces the visitor with her good looks, her steamy weather, chrome-festooned American cars, zesty cocktails, pretty buildings, heart-stopping Afro-Cuban beats and hip-swivelling, story-telling, garrulous locals. With her bedrock layered with Spanish empire treasure, slave-fuelled sugar wealth and a heavy top coating of communism, Havana is simply one of the world's most exciting, confusing and compelling capitals.
As a global show-stopper, there are plenty of things to do in Havana, from taking in the highlights of the Spanish colonial old town, with its castles and museums – including challenging art and sculpture at the Museo de Bellas Artes – to the contemporary art, music and film scene at the new Fábrica de Arte Cubano and cruising the snaking, sea-sprayed Malecón ocean road in a gleaming classic American car.
Other Havana highlights include eating and drinking in the capital's new wave of private restaurants and bars such as stylish Le Chansonnier and the alfresco patio bar of Espacios, followed by partying in dens of musical entertainment such as basement Teatro Bertolt Brecht and jazz bar La Zorra y el Cuervo or salsaing under the stars at 1830.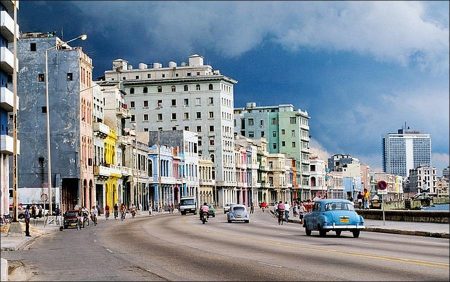 Havana Museums and Attractions
Havana is packed full of museums from the conventional to the quirky: the Museum of the Revolution, which showcases Fidel Castro's rise from rebel commander to victor of his 1959 revolution; the opulent Napoleonic Museum, home to the largest collection of Napoleonic memorabilia outside Europe; Ernest Hemingway's books, pet graves and hunting trophies at his home-turned-museum; the museum of classic cars; and the Casa de Africa, which reveals the history and religion of the West Africans brought to Cuba during the height of the slave trade.
But it's the alternatives, both iconic and esoteric things to do in Havana, that will make your visit memorable. Swing by the lush art deco headquarters of the Bacardi rum empire, tour the illustrious marble tombs at the Christopher Columbus Cemetery, ride with the locals in an almendrón (classic car taxi), sneak a peak in the ladies' cloakroom of the art deco Teatro América, sit, swoon and gossip with habaneros at dusk on the Malecón sea wall, dance salsa under the stars at 1830, catch a baseball game, or queue with the locals for ice cream at the space-age Coppelia.
At night, dine at one of the new pop-up restaurants in Old Havana – arty Vedado, or smart Miramar – then mingle with monied locals at the new-wave of industrial chic, boho and speakeasy-style bars.
Time your visit for Havana's popular festivals: the October biennial ballet festival, the film festival and jazz festival, both staged in December, the cigar jamboree in February and the art bienal – held in 2015 from May 22 to June 22.