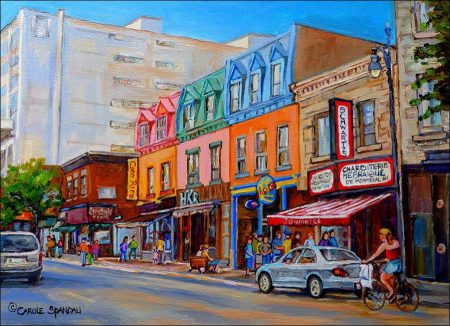 Montreal is the largest city in the Canadian province of Quebec. It is the second largest city in Canada, 18th largest in North America and the 26th largest in the Americas. Originally called Ville-Marie, or "City of Mary," it is named after Mount Royal, the triple-peaked hill in the heart of the city. The city is on the Island of Montreal, which took its name from the same source as the city, and a few much smaller peripheral islands, the largest of which is Île Bizard. It has a distinct four-season continental climate with warm to hot summers and cold snowy winters.
Montreal, anyone can attest, is a dynamic city. It's full of life, and constantly building upon itself, with new shops, cultural spaces, and restaurants sprouting up like dandelions in every nook and corner. Its particular sense of energy is inspiring for visitors from all over the world. Here's an excellent city guide for Montreal.
Where to Go
I live in Plateau. It's a neighbourhood full of artists, young families, and streets full of brick houses and colourful façades with complementing spiral staircases. It's a very walkable area where you can easily meet with your friends for breakfast and go to a coffee shop 10 minutes after. You can then stop at the bakery to get a baguette, by the cheese shop to grab a slice of brie and park your Bixi bike in front of the depanneur to get something to drink before heading to a picnic in the park. People from all around the city come to Plateau to hang out in the coffee shops and high-quality bistros, and to spend time in the parks to just walk around and enjoy the surroundings.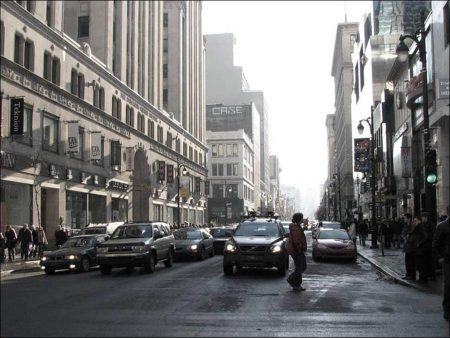 To me, Outremont always has a special place because of its architecture. Little Italy is also a very vibrant neighbourhood with Jean-Talon market right around the corner and all the amazing pizza places and coffee shops, and the sights of people chatting in front of stores. Griffintown and a walk by the Lachine Canal offer an amazing insight to Montreal's history and the current direction in which the city is heading.
what to Do
My perfect day in Montreal probably starts with a good breakfast/brunch at either at a classic spot like Lawrence or a new restaurant like Petite Maison. After, I'll walk around with my friends and probably go to Café Olimpico to hang out in the terrace and soak up the sun while enjoying a latte freddo. If you need a bite after all the caffeine, I'd stop by at St-Viateur Bagel to have a sesame bagel. Hop on your bike, go to Rue Bernard to check which new books and magazines have arrived at Drawn & Quarterly. I'd then spend the afternoon at Parc Laurier or shopping at Frank & Oak or visiting the Museum of Contemporary Art if the weather is chilly.
Where to Dine
The list of great restaurants in Montreal is constantly evolving. There are 24 restaurants from Montreal that made it on the Canada's Top 100 list this year. From those I have tried I recommend: Joe Beef, Maison Publique, Lawrence, Damas, Impasto, and Satay Brothers. It's hard to have little-known gems in Montreal as everybody seems to be in trying new spots. However, here are my recent favourites: Le Mousso, Petite Maison, Adamo, Foxy, Hoogan et Beaufort, and Trilogie.
I have tried almost all the independent coffee shops in Montreal and more new spots are opening up each month! From these it's hard to pick a favourite, but there are different spots that serve different moods and needs. If you're going to meet with an old friend, I'd recommend Pikolo. For an afternoon read soaking up the sun, Olimpico is your best choice. If you'd like to have lots of light, either Soupesoup on Wellington or Cafe Falco would do it. For great coffee, Myriade on St-Viateur, 8oz, Café Artiste Affamé, and September Surf Café are the places to go!