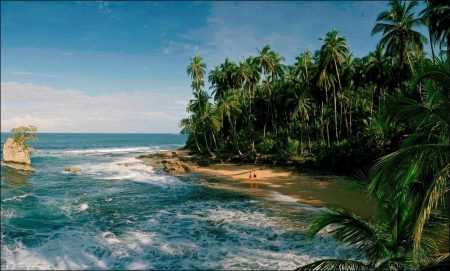 This small country is perhaps the best in Latin America for a tropical adventure, thanks to its misty jungles, incredible wildlife, active volcanoes and glorious deserted beaches.
The essential itinerary for Costa Rica was defined long ago: Manuel Antonio for the beach, Monteverde for cloud forest, Tortuguero for turtles, and Arenal volcano for outdoor adventure. Add in the area of sandy beachfront in Guanacaste that has also been set aside for large hotels and you have all the elements of most package tours to the country.
But the true beauty of Costa Rica lies in its smaller, emptier spaces. And though there is plenty of adventure on offer (when they say you can zipline from one end of the country to the other, they're only half joking), it's the V-formation of pelicans flying over your hammock, lightning over a silver sea, pink orchids against turquoise houses, a passing cowboy with silver stirrups, the white sand and deep blue sea that stay in the memory – along with the state of the roads.
Costa Rica has a mountainous spine, so crossing from Pacific to Caribbean coast takes forever. Resign yourself to loops in all directions out of the capital San José, which sits in the Central Valley, and remember that internal flights will save time and stress. What looks like a quick journey on a map will not be: the 65-mile drive from Arenal to Monteverde, say, can take six hours.
All prices are for the current high season (December-April) and include tax of 13%. In the low season, from May-November (less crowds, rainy mornings), there are substantial discounts if occupancy is low.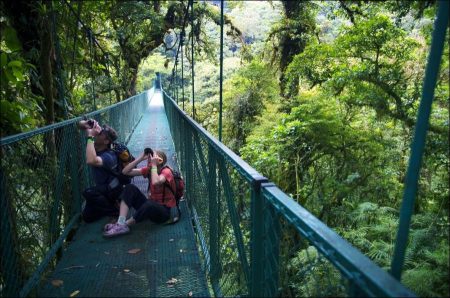 San José, The Capital City
You'd be forgiven for thinking that the old capital has been left to rot while a replacement, made of condos and strip malls, is built around it. The gridlocked downtown blocks aren't pretty, with their cracked pavements, stinking drains, seedy bars, pickpockets, rusting tin roofs and ocarina sellers. But old San José has its sights, from Museo de Jade (Plaza de la Democracía) and Museo del Oro (beneath Plaza de la Cultura), both with unrivalled but unsung pre-Colombian treasures, to the warren of the Mercado Central, and the pay-to-view grandeur of the Teatro Nacional.
Start at the city's western edge with a visit to Museo de Arte Costarricense in the old air traffic control building of what used to be the airport, then head down Paseo Colon.
Where to stay
For San José's airports and exits for Pacific highways, hotels in the western suburbs are best. For a quick stopover, white, clean, super-value Hotel Luisiana in Santa Ana (doubles from $62 room-only) is a good option, but for a treat try Xandari (doubles from $299), just 20 minutes from the international airport. This colourful gem, with thatched spa and pools in tranquil tropical gardens on the northern flanks of the Central Valley, offers spectacular views of the city. In San José itself, the boutique Hotel Grano de Oro (doubles from $186) is a luxurious, charming oasis filled with art and plants just off Paseo Colon.
Wealthy coffee barons built their homes in Barrio Amón, five blocks north of the Teatro Nacional. Hipster entrepreneurs have turned several of them into bars and restaurants. Try hole-in-the-wall Café Miel (Avenida 9, Calle 11 & 13) for great cake and coffee; atmospheric and arty Alma de Amón (Calle 5, Avenida 9 & 11) for cocktails, empanadas and ceviche; and coolly scruffy Stiefel Pub (near the INS building on Avenida 7) for lively crowds and craft beer. Near the top of Paseo Colon, stylish Aquí Es (Avenida 2 & Calle 38) has live jazz and big steaks.
Tiquicia (+506 2289 5839), above San Antonio de Escazú, offers city views and folk dancing. It's cheesy and sentimental, but this is where Ticos go for a night of chicharrones (pork rinds), a casado of rice, steak and plantain, and loads of Nicaraguan Flor de Caña rum with Coke, limes and a bucket of ice.