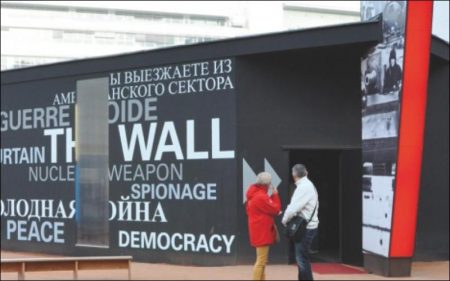 Information pavilion on the history of Checkpoint Charlie.
The 200 m² (2,150 ft²) of the Black Box at Checkpoint Charlie informs the public on the history of this most famous border crossing point. With the use of large-format photos and numerous media stations, not only the impact of the Berlin Wall on the history of Germany is illustrated, but also the entire international dimension of the division of both Germany and Europe will be made tangible.
The external design of the pavilion refers to the two Great Powers of those days, the Soviet Union and the USA. The black colour of the external façade stands for the Black Box – the recorder of events for posterity. The red colour of the column signifies the Soviet Union and the blue window the USA.
In 2015, it is intended to establish the Cold War Museum on this site.