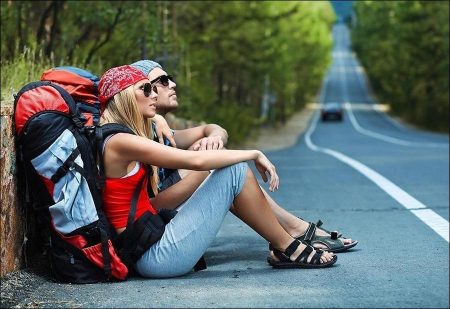 Whether you're setting out for a backpacking trip to Asia or Europe, preparing and packing your backpack can be tricky and it will require some thought and planning. Here's a complete backpacker's guide to the do's and don'ts of packing.
Packing light is key but is easier said than done, when it comes time for you to actually sit down and pack. Our first instinct, especially for those more cautious packers, is usually to pack everything that comes to mind, just on the slight chance that you may have to use it once or twice.
Your backpack is going to be your life for the duration of your travels. Whether you plan to be gone for a couple weeks, or a couple months, you're going to be wearing your backpack on your back the entire time. It's important to remember this and only pack the essentials. A smaller, and lighter backpack will be less cumbersome for you. It'll make you a happier traveller and make for a better backpacking experience.
Clothing
When packing your clothes, fight the urge to throw your entire closet in your bag. You're not going to need everything, that extra fleece sweater is only going to take up space. Pack only a couple pairs of bottoms, shirts, a swimsuit and about six pairs of underwear. You can easily wash your clothes wherever you're staying.
Sunblock
Be prepared for the weather. Research ahead of time so that you're aware of your travel destination's current climate beforehand. For those hotter destinations, you'll want sunblock to wear while you're out and about. Purchase a travel size, so that it doesn't take up much room in your pack. You can easily invest in another sunblock if you run out on the trip.
Day Pack
Bring along a small day pack, so that when you are going out on day trips to tour the different cities and towns, you won't have to carry your large backpack around all day. Keep your backpack back at the hostel, in a security locked room that they provide. This will make for much more enjoyable day outs.
Phrase / Language Book
Invest in a travel size phrase or language book for the trip. It doesn't take up much room and it will come in handy when you're trying to communicate and socialize with the locals.
International Adapter
Another great investment for the trip is an international adapter. Your phone is a great tool for booking accommodations, checking bus schedules and getting directions, you'll want to keep it charged so that you're prepared for anything.