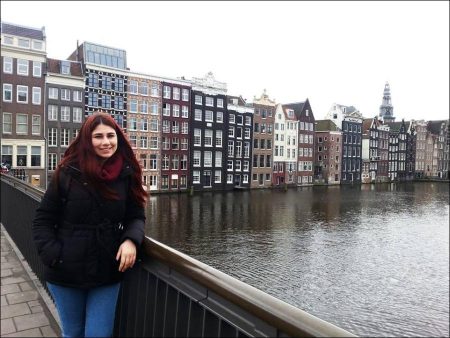 Amsterdam, in its physical aspect, is almost entirely a product of the so-called "Golden Age" of the Netherlands-that period in the 17th century when Holland surged to the near-pinnacle of world power, after its victory over Spain in the brutal Eighty Years War. It was during this period that the merchants of Amsterdam-then the dominant element in the city-laid out a pattern of gently-curving, concentric canals that occupy the central section of Amsterdam and constitute the city's particular glory today. Amsterdam performs an essentially capital city service function for the rest of the Dutch economy.
The canals run in a fairly regular pattern that makes it quite easy to orient yourself. Starting at the Central Station, the first of the canals is the Singel. Then comes the Herengracht ("Gentlemen's Canal"), then the Keizersgracht ("Emperor's Canal"), and finally the Prinsengracht ("Prince's Canal"). Along these canals the merchants of 17th-century Amsterdam then constructed what seem today like endless lines of gilded, patrician mansions and homes. These have, in recent years, been occupied by business firms, but their façades are absolutely untouched-and it is in this most beautiful centuries-old setting that you'll want to spend most of your time in Amsterdam.
Crossing through this pattern of parallel, concentric canals, like the spokes of a wheel, are avenues, the most important of which is the Damrak, which starts at the Central Station and heads straight to the Dam Square, site of the Royal Palace, the Nieuwe Kerk (New Church), and National Monument. From the Dam Square, this street becomes the Rokin, and veers a bit as it heads to the Mint Square (Muntplein), where the famous old Mint Tower Amsterdam stands, and where the Amstel River begins.
Near the Mint Square is the Rembrandtsplein (Rembrandt's Square), one of the two major entertainment areas of Amsterdam; a bit further out, and to the west, is the Leidseplein (Leidse Square), the other entertainment section of Amsterdam, and the site of the Stadsschouw-burg (Municipal Theatre). And beyond this central area is a slightly more modern section where you'll find the two great art museums of Amsterdam-the renowned Rijksmuseum and Stedelijk Museum- as well as the famous home of its much-acclaimed orchestra, the Concertgebouw.