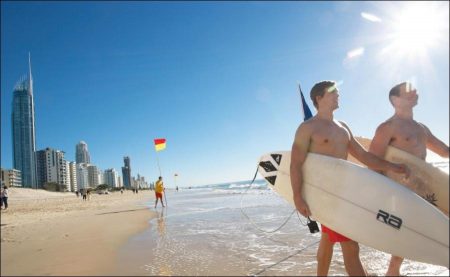 The Gold Coast is throbbing stretch of sandy beaches and curling surf for those who love the sun, sand, sea and their fellow creatures. The strip abounds in hotels, restaurants and entertainments, among which are the Mudgeeraba boomerang factory; the Curumbin bird sanctuary where at a signal flocks of lor i keets flutter in to perch on your head and arms; Marineland and its singing dolphins; the comical penguins of Broadwater; Fleay's Fauna Reserve at Burleigh Heads; and the Auto Museum at Kirra. At Surfers Paradise, daily water skiing shows, speed boat rides, floor shows and bowling rinks. Some prefer the quieter beaches North of Brisbane.
Varying from 20 miles to 150 miles off the coast is the Great Barrier Reef, largest coral reef in the world – 120 miles long; in many ways a perfect holiday land, especially in winter. Quiet green islands, brilliant coral, tropical fish, thousands of coves and beaches; transport and accommodations in plenty. Dedicated skin divers should not miss it, neither should collectors of exotic sea shells.
The islands of the Whitsunday group are very beautiful: Brampton, Hayman, Lindeman, South Molle – reached from Mackay. However, the others to North and South have their advantages – in particular Green Island, with its underwater observatory, and Dunk Island, both reached from Cairns. Most economical way to see the reef is by taking one of the package tours offered by several Australian companies.