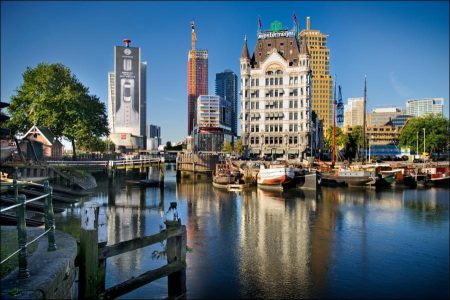 Rotterdam owes its ultra-modernity to its utter devastation in Second World War. The visible result of this 'fresh start' is one of the most dynamic and efficient seaports in the world. Sited on the estuaries of the Maas (Meuse) and the Rhine, the Europort of Rotterdam is one of the major European trade centers.
There are frequent pleasure cruises through the heart of dockland and, for a panoramic view of the city, go to the top of the 392-foot Euromast. At street level you should not miss the Boymans-van Beuningen Museum which houses many of the works of Hieronymus Bosch, the medieval painter, whose bizarre masterpiece, The Garden of Delights, rests in the Prado in Madrid.
Hotels in Rotterdam: Rotterdam Hilton (Weena 10); the Atlanta (Coolsingel 97 / Aert Von Ness 4); the Savoy (81 Hoogstraat) and the Rijn Hotel (Schouwburgaplein 1).