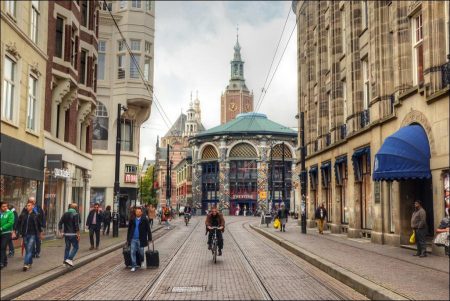 To avoid confusion, understand that the Dutch call it Den Haag, and they write it 's-Gravenhage. This is the seat of government (since 1247), the Diplomatic Corps and the International Court of Justice. For splendid pageantry be there on the third Tuesday in September when the Queen presides over the State Opening Parliament.
On the June 15, The Hague tunes up for the world-famous Holland Festival of Music and Ballet. And, in adjoining town of Scheveningen, there is a festival of music and drama called the Kurhaus Season. The Hague is also home to the renowned Mauritshuis Collection, an assembly of Dutch Masters housed in a 17th century mansion. There is also an Aladdin's Cave of Piet Mondriaan's work at the Gemeente Museum.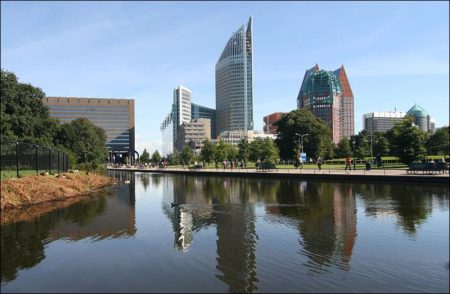 Three tips for dining out in the Hague. First, the Royal Restaurant (Lange Voorhout 44), undeniably expensive but the French food is exquisite. Formality is the keynote here. 't Gemeste Schaap (Raamstraat 9) is a moderately pricey, but the food is good and traditional Dutch ambiance make it well worth a visit. Also at The Hague is the Bali Restaurant (Badhuisweg 1, Scheviningen) opposite the Kurhaus Hotel. The Rijjsttafel at the Bali is reputed to be the finest in Holland.
Hotels in The Hague: Promenade (van Stolkweg 1), the Park Hotel (Molenstraat 53) and are Des Indes (Lange Voorhout 56) and Grand Hotel Terminus (180 Stationweg).
One of the Holland's most famous attractions can be found not far from the Hague; the miniature village of Maduradam. In this extraordinary 1:25 scale model of a Dutch town trains run, the bands play and at night the city lights up just like real. If you have ever wondered how Gulliver really felt, do not miss Maduodam.