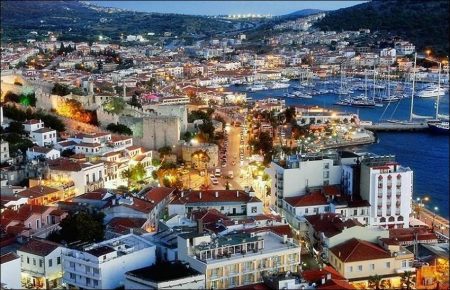 Çeşme is a coastal town and the administrative centre of the district of the same name in Turkey's westernmost end, on a promontory on the tip of the peninsula which also carries the same name and which extends inland to form a whole with the wider Karaburun Peninsula. It is a popular holiday resort and the district center, where two thirds of the district population is concentrated.
Çeşme is located 85 km west of İzmir, the largest metropolitan center in Turkey's Aegean Region. There is a six-lane highway connecting the two cities (Otoyol 32). Çeşme district has two neighboring districts, Karaburun to the north and Urla to the east, both of which are also part of İzmir Province. The name "Çeşme" means "fountain" and possibly draws reference from the many Ottoman fountains scattered across the city.
Under the Greeks and Romans in Classical antiquity its name was Cysus (Ancient Greek: Κύσος Kysos), possibly a mere locality at the time. Turkish sources always cited the town and the region as Çeşme (or Cheshme) which is originally a Persian word since the first settlement 2 km south of the present-day center (Çeşmeköy) founded by Tzachas and pursued for some time by his brother Yalvaç before an interlude until the 14th century. The name "Çeşme" means "spring, fountain" in Persian and possibly draws reference from the many Ottoman fountains scattered across the city.
A prized location of country houses and secondary residences especially for the well-to-do inhabitants of İzmir for more than a century, Çeşme perked up considerably in recent decades to become one of Turkey's most prominent centers of international tourism. Many hotels, marinas, clubs, restaurants, boutique hotels, family accommodation possibilities (pansiyon) and other facilities for visitors are found in Çeşme center and in its surrounding towns and villages and the countryside, as well as very popular beaches.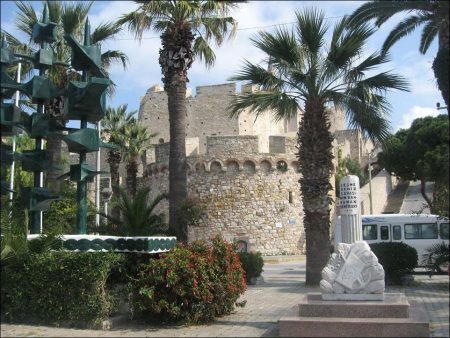 Çeşme district has one depending township with own municipal administration, Alaçatı, where tourism is an equally important driving force as the district center area and which offers its own arguments for attracting visitors, as well as four villages: Ildırı on the coast towards the north, which is notable for being the location of ancient Erythrae, and three others which are more in the background, in terms both of their geographical location and renown: Germiyan, Karaköy and Ovacık, where agriculture and livestock breeding still forms the backbone of the economy.
Some andesite, lime and marble is also being quarried in Çeşme area, while the share of industrial activities in the economy remains negligible. In terms of livestock, an ovine breed known as "Sakız koyunu" in Turkish (translatable literally as "Chios Sheep"), more probably a crossbreeding between that island's sheep and breeds from Anatolia, is considered in Turkey as native to Çeşme region where it yields the highest levels of productivity in terms of their meat, their milk, their fleece and the number of lambs they produce.
Preparations such as jam, ice cream and desserts, and even sauces for fish preparations, based on the distinctively flavored resin of the tree pistachia lentiscus from which it is harvested, are among nationally known culinary specialties of Çeşme. The adjacent Greek island of Chios (sakız in Turkish is the name for both Chios and mastic resin) is the source of mastic resin.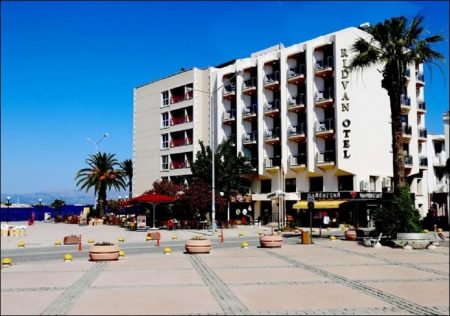 Some efforts to produce mastic resin in Çeşme,where ecological conditions are similar, were not continued. A number of efforts are being made to rehabilitate the potential presented by the mastic trees that presently grow in the wilderness, and to increase the number of cultivated trees, especially those planted by secondary-residence owners who grow them as a hobby activity. The fish is also abundant both in variety and quantity along Çeşme district's coastline.
In relation to tourism, it is common for the resorts along Çeşme district's 90 km coastline to be called by the name of their beaches or coves or the visitor's facilities and attractions they offer, as in Şifne (Ilıca), famous both for its thermal baths and beach, and in Çiftlikköy (Çatalazmak), Dalyanköy, Reisdere, Küçükliman, Paşalimanı, Ayayorgi, Kocakarı, Kum, Mavi and Pırlanta beaches; Altunyunus, synonymous with a large hotel located in its cove; and Tursite, by the name of the villas located there. Some of these localities may not be shown on a map of administrative divisions The district area as a whole is one of the spots in Turkey where foreign purchases of real estate are concentrated at the highest levels.
The town of Çeşme lies across a strait facing the Greek island of Chios, which is at a few miles' distance and there are regular ferry connections between the two centers, as well as larger ferries from and to Italy (Brindisi, Ancona and Bari) used extensively by Turks of Germany returning for their summer holidays.
Population: 27.796 (2007)
Altitude: Sea Level
Airport: Adnan Menderes Airport 90 Km.
Transfer: Taxi, mini bus, bus.
Min/max temperatures in centigrade: Jan 5/12; Peb 4/12; Mar 5/14; Apr 11/19; May 16/24; Jun 20/29; Ju122/32, Aug 22/32; Sep 19/28; Oct 16/24; Nov 11/18; Dec 8/14
City transport: Taxi, mini bus.
Sights and local attractions:Cesmc Castle, Ilica, Boyalik bayl, Dalyan and Sakizli koy, Şifne, Buyuk Liman, Pasha Liman, Ciftlikkoy and iırlanta Beach, Çata1azmak Beach, Ildiri (Erythrai), Alacati, Caravansarail.
Sightseeing Tours and Excursion:
1. Ephesus – Mary's House
Visit the shrine of Virgin Mary; St. Paul, Temples, Library, Great Theatre, Stadium, Archeological Museum, Isabey Mosque, Basilica St. John, Temple of Diana.
2. Pergamon – Aesdapium
Visit Acropolis, Temple of Athena, Library, Royal Palace, Tempel of Trojan, Great Theatre, Tempel of Dyonysus, Altar of Zeus, Archaeological and Ethnographical Museum, Ruins of Aesclapium