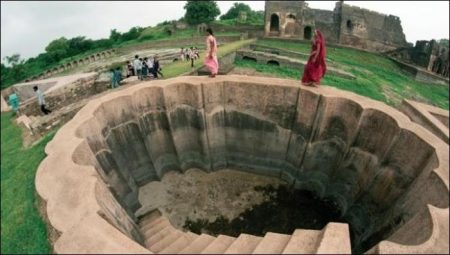 With its colourful legends, the city of Mandu – ancient centrepiece of the Indian state of Madhya Pradesh – is a wonderland of mosques, palaces and romance.
Nicknamed the Heart of India because of its central location, the state of Madhya Pradesh is the historical home to countless grand monuments and chest-pounding natural beauty.
Home to the vibrant capital city of Indore, three UNESCO World Heritage sites, vast national parks, rare wildlife and countless romantic legends, it's little wonder that the Madhya Pradesh tourism offering was honoured with the Best Tourism State Award in 2012.
One such site of outstanding beauty is the ruined city of Mandu, a fortress town first mentioned in a Sankrit inscription in 555AD that became the setting for many a tale of love, loss, death and victory.
Seduced by its romantic past Kalpana Sunder travels to Mandu and lets the 21st century drift away…
Welcome to the pleasure palace
It's like a scene from the Arabian Nights. The Jahaz Mahal in Mandu is named so after a reflection – they say that on moonlit nights, when the building casts its shadow on the waters, it looks like a ship. The former pleasure palace of the sybaritic king Ghiyas-ud-Din Khilji, it's said to have housed 15,000 women, some of whom weren't just a part of his harem, but also his bodyguards. They came from as far as Turkey and Abyssinia (Ethiopia) and the king trained them in the arts, music and defence. I'm lost in a surreal world of elegant palaces, magnificent mosques, centuries-old towers, medieval reservoirs and Wonder Women. Legendary tales are woven into the history of Mandu, the medieval kingdom that's 98km from Indore.
I drive to Mandu through golden wheat fields dotted with small villages against the backdrop of the Vindhya Range. As I approach, there's a deep ravine, a natural moat of sorts, leading to a plateau with fortified walls running for almost 45km. Tendrils of mist obscure the facades covered with shiny moss. Mandu started as a Hindu kingdom in the 10th-Century under Raja Bhoj and was later called Shadiabad or the City of Joy.
I ramble through the ruins with my guide Haneef who claims that the town's architecture is unparalleled. We're in the Royal Enclave, a part of Mandu that has a cluster of palaces and structures built around two artificial lakes. There are manicured lawns, flowerbeds and women dressed in rainbow-coloured saris (scruffy kids in tow) sitting on benches and having a snack.
The two-storeyed Jahaz Mahal has pools shaped like a tortoise and a lotus, fed by a Persian wheel. What's amazing is the medieval filtration system that used cloth, charcoal and sand to slow down the flow of water through snake-like spirals set in the floor. It's said that when Emperor Jehangir and his wife Noor Jehan spent some time here, the entire building was lit up with lamps.