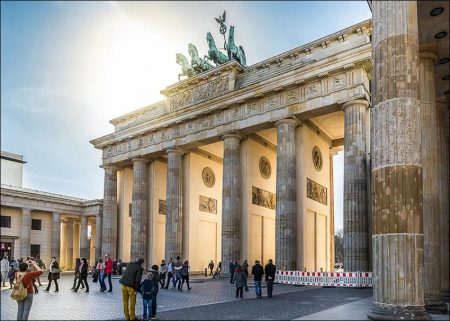 Berlin is notable for its greenery (only one-third of its area is built up) and East Berlin for its old historical center with the Royal Palace and museums. Kurfürstendamm (Ku'damm), with its Kaiser Wilhelm memorial church is the main thoroughfare of West Berlin, lined with luxury hotels, shops, cafes and cinemas. Behind the church is the Zoo (Tiergarten).
Of the few surviving old buildings, the most notable are Charlottenburg Castle, the 18th century Brandenburg Gate, the reconstructed Reichstag and the Rathaus, seat of the Senate, where the Liberty Bell is rung at noon. Important museums include the Egyptian Museum with the famous bust of Nefertiti; Museum Dahlem with 13 -16th century paintings including famous Rembrandts and Vermeers, the Berlin Museum where the collection depicts the development of the city and the New National Gallery designed by Mies van der Rohe.
The Olympic Stadium constructed for the 1936 games, holds 100,000 people. In the western suburbs are the forest and lake areas of the Grünewald and the Havel inlets which open out into the Wannsee, crowded with bathers in summer. Excursion parties go to Frederick the Great's Palace of Sanssouci in the East zone with its great art treasures and to the ancient Palace of the Crown Prince, Cecilienhof where the Four-Power Aggreement was signed in 1945.