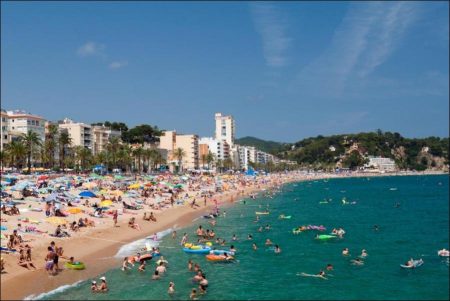 Punta del Este is a city and resort on the Atlantic Coast in the Maldonado Department of southeastern Uruguay. Although the city has a year-round population of about 9,280, the summer tourist boom adds to this a very large number of non-residents. Punta del Este is also the name of the municipality to which the city belongs. It includes Punta del Este proper and Península areas.
The city is located on the intersection of Route 10 with Route 39, southeast of the department capital Maldonado and about 140 kilometres (87 mi) east of Montevideo.
In 2011 Punta del Este had a population of 9,277 and 23,954 households and apartments. According to the Intendencia Departamental de Maldonado, the municipality of Punta del Este has an area of 48 km2 (19 sq mi) and a population of 15,000.
A Brief History of Punta del Este
The first Europeans to set foot in what is now Punta del Este were the Spanish at the beginning of the 16th century. However, the colonization of the area actually began around Maldonado at the end of the 18th century due to Portuguese expansionism.
Punta del Este and its surroundings (Maldonado and Punta Ballena) at the end of the 19th century were kilometers of sand and dunes, but in 1896 Antonio Lussich bought 4,447 acres (1,800 ha) of uninhabited land and there he started a botanical garden, Arboretum Lussich, and planted trees and plants from all over the world. Later the trees started to spread on their own, and now the area is full of mostly Pines, Eucalyptus, Acacias and various species of bushes.
On 5 July 1907, it was declared a "Pueblo" (village) by Act of Ley 3.186.[2] Its status was elevated to "Ciudad" (city) on 2 July 1957 by the Act of Ley Nº 12.397.
Punta del Este hosted an American Summit in 1967 attended by U.S. President Lyndon Johnson. In September 1986, Punta del Este played host to the start of the Uruguay Round of international trade negotiations. These negotiations ultimately led to the creation of the World Trade Organization in 1994.