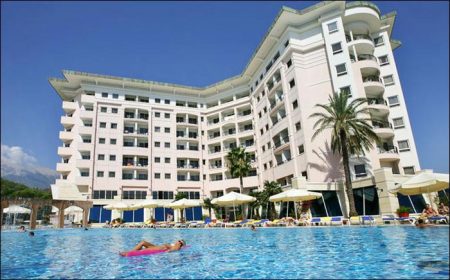 For seasons of active holiday
The new worldwide nterpretation of holiday.
Has come to mean "Four Seasons Active Holiday"… The aim is rejuvenate through recreation and relaxation
Rejuvenate yourself at Water Paradise…
Rooms: 133 rooms, furnished with Balcony, airconditioning, telephone, TV. satellite, music and video broadcasts, room bar, bathtub, hair dryer.
F&B: Feuillages (Main Restaurant), Ottoman Cuisine. Bar Barbarossa, Midnight Barbecue, Aqua Bistro, Bar, Cafe Aqua, Vitamin Point.
Sportive Activities: Water sports, Tennis, Mini-soccer, Volleyball, Basketball, Jogging.
Health & Fitness Center: Sauna & shock pool, Steinbad, Fitness center. .
Bunny Club for the children: Play pool. Play garden.
Disco: Bubbles Dance.
Lounges: Winter Garden (greenhouse. library, reading section) Game lounge, Upper lounge (fireplace, piano, live music, aquarium).
Meeting Services Business Point: Multi-purpose meeting room (60 people), Special meeting rooms (8 and 18 people), VIP offices, relaxation rooms . Aqua Plaza (Shopping): Sportique (Sports boutique), Rainbow Mini Market, Photo Graphis. Tulipano (Jeweller), Buffalo (leather boutique), Hair Studio, Rent A Car, Ladik (Carpet shop).
The water paradise at the Aqua Resort with it's interesting architecture in PopArt, integrated well in the nature is equipped with more than 10 water recreation systems… Ranging from tumbling wild rivers and sweeping water stream channels to different versions of water slides… Bubbling in the "Whirpool" cooling in the shock pool. Smiling in the children's mini pool… And massage beds to relax your tired muscles.
The Water Paradise continues on the tropical garden with the tropical pool in the middle.. The internal and external pools and recreation systems are heated during winter… Everything has been specially designed for you to have four seasons of active holiday in a unique and relaxed atmosphere.
Resort Hotel Camyuva – Kemer, 07980 Antalya – Turkey
Head Office: Bestekar Sak. 64/5 Kavaklidere, 06680 Ankara – Turkey