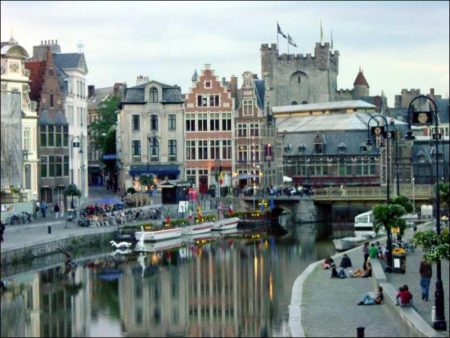 Ostend is perhaps the most famous of the seaside towns, with a promenade 100 feet wide and 10 miles long. The city has an aquarium, casinos, and Royal Theater. Hotels include the Palais des Thermes (or Grand Hotel), the Imperial (76 van Iseghemlaan) and Wellington (60 Promenade Albert 1er), the Royal Astor (15 rue Cerf).
Other spots worth visiting on the coast are Knokke Le Zoute – stay either at Chateau de Namur (Avenue Milieu Monde 1) or Grand Hotel de Flandre (Place de la Gare 14) – Zeebrugge, one of the newer coastal resorts and Le Coq, expensive and still largely unspoilt.
In earlier times, Ostend was a small village built on the east-end (oost-einde) of an island (originally called Testerep) between the North Sea and a beach lake. Although small, the village rose to the status of "town" around 1265 when the inhabitants were allowed to hold a market and to build a market hall.
The major source of income for the inhabitants was fishing. The North Sea coastline has always been rather unstable and in 1395 the inhabitants decided to build a new Ostend behind large dikes and further away from the always-threatening sea.
Ostend is famous for its sea-side esplanade, including the Royal Galleries of Ostend, pier, and fine-sand beaches. Ostend is visited by many day-trippers heading to the beaches, especially during July and August. Tourists from inland Belgium and foreigners mostly arrive by train (day trips) and head for the closest beach area, the Klein Strand, located next to the pier. The locals and other residents in Belgium usually occupy the larger beach (het Groot Strand). Ostend used to be widely visited by the British, Germans, French and Dutch, but is now mainly frequented by Belgians and Dutch.
Near the beach is a well-preserved section of the fortified Atlantic Wall, open to the public as the Atlantic Wall Open Air Museum located in Raversijde. During summer evenings (or just any kind of weather) one can walk through the little streets around Het Vissersplein. At certain times there are local markets in the neighbourhood streets and in the summer the Vissersplein has music festivals. The Vissersplein (Bonenstraat / Kadzandstraat) is a car free zone with many brasseries where patrons can sit outside and have a drink. Towards the port side there are many little fish outlets, and beyond that the ferries can be observed docking.
Interesting locations
— The Casino and Fort Napoleon, Ostend.
— Oostende railway station.
— The Mercator, the ex training sailing ship for Belgian merchant navy officers, now open to the public to view.
— Hippodrome Wellington, horse racing venue.
— St Petrus and St Paulus Church, Ostend (Sint-Petrus-en-Pauluskerk), built in Neo Gothic style.