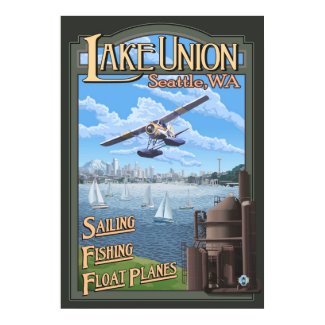 Lake Union Float Plane – Seattle, WA Travel Poster
by
LanternPress
Look for more
office art
at zazzle.com
Lake Union in Seaatle
Nestled on the south shore of Lake Union and extending south to Denny Way, South Lake Union is one of the fastest growing and most vibrant neighborhoods in Seattle. As the city's downtown lakefront neighborhood, it's a place where cutting-edge companies co-exist with urban lofts, one-of-kind retail experiences mix with world-class parks and open spaces, seaplane tours depart to circle scenic Seattle from above and a streetcar line quickly moves people around in style.
South Lake Union also has a little of the funkiness so distinctive to the Emerald City. A local condominium complex has a bocce ball court, the stunning lakefront park has a model boat pond and there's a local gourmet bakery — for dogs.
The neighborhood is already home to several globally-recognized companies including the Fred Hutchinson Cancer Research Center, Rosetta/Merck, ZymoGenetics, Tommy Bahama, NBBJ, University of Washington Medicine, Group Health Cooperative, Seattle Biomedical Research Institute and, soon, the new headquarters for Amazon.com.
Lake Union also gets to brag about having REI's towering flagship store on Yale Avenue North, complete with a bike test trail, a climbing wall and enough outdoor gear to outfit the entire city.
New to the neighborhood is the Museum of History and Industry (MOHAI), taking up residence at the Naval Reserve Armory at Lake Union Park. The Armory, originally built in 1942, was given a makeover by MOHAI with a full restoration, preserving many of the building's unique Art Deco-style features. The new location is home to the museum's nearly four million historic artifacts and photographs.
Public art is one of the great treasures of South Lake Union. Throughout the neighborhood, there's inspiring, diverse and eye-catching artwork on display by several acclaimed local artists. At 2200 Westlake Plaza, in front of Whole Foods Market, are three seven-foot tall sculptures by acclaimed local ceramicist Akio Takamori,whose work can be found in public collections in the U.S. and around the world. At the Merck/Rosetta Building, visitors can check out (and play on) Buster Simpson's "Ping Pong Plaza," a bronze ping-pong table with a stainless steel net that is a working game table.