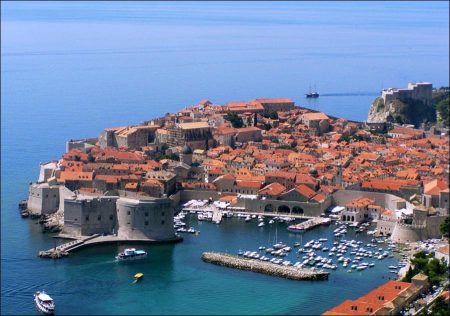 The islands of the Dalmatian coast are the most architecturally beautiful in the world. Dubrovnik is the most famous resort of the Dalmatian coast, has not only managed to preserve its 16th century atmosphere, but has 250 days of sunshine too. In the fourteenth and fifteenth centuries, the warring between Venice and Ragusa (Dubrovnik) left a legacy of handsome fortified cities built of honey-colored stone, of which Hvar's is the finest.
It is fashioned around an enormous piazza, a Baroque cathedral at one end, a small-boat harbor at the other, and is flanked by Gothic Venetian palaces. Occupying one corner is a building known as the Arsenal: It is topped by a theater that was built in 1612, when Shakespeare was still alive, and is claimed to be the oldest public theater in Europe. The ancient part of the Dubrovnik town is encircled by high walls with huge guard towers. There are many outstanding buildings including the Church of Sveti Spas, St Saviour, the Sponza Palace, and the Rector's Palace.
During the summer festival of Dubrovnik Shakespeare is performed in the Lovrejenac fortress, concerts are given in the Sponza Palace and all the countryards and squares are used for operas, plays and music. Among restauruants are the Dubravka Cafe, the Jadron at the old convent near the Onofrio fountain, and the Ocean, specializing in grilled meats. For something different, have lunch in a Benedictine abbey on the nearby isle of Lokrum.